Please read the License Agreement before installing and using the indicators.
Installation & Activation Guide
The upgrade procedure is identical, whether you have purchased indicators following a free trial, or whether you are adding additional indicators as a current customer.
In either case you will have already created a Quantum Trading account as part of the set up process.
Please remember, you can install the indicators on as many pc's as you wish, but the indicators will only work if the MT4 account is the same on each machine. This gives you the option to install them on a laptop and desktop for example for travelling etc. If you want to install the indicators on two different accounts and run them simultaneously, then you will need to purchase a second user licence and create a second user account. Second and subsequent user licences are available at a 50% discount from the first.
The first step is to log in to your account at the following URL :
http://enable.quantumtrading.com
Once there, log in using your username and password, and this will display the home page of your account:

In the menu on the left hand side, scroll down to the Upgrade tab and left click to open the following page: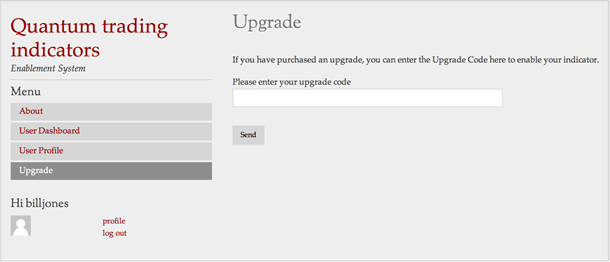 Now, go to your inbox, where you will have received an email from us, confirming the purchase of your indicators. In the body of the email you will have received your unique upgrade codes for each indicator.
If you have purchased more than one indicator, then there will be more than one code.
Copy and paste each code into the window on your Upgrade page, one at a time. Click the Send button after EACH one. PLEASE make sure you copy and paste this code CAREFULLY to ensure there are NO spaces.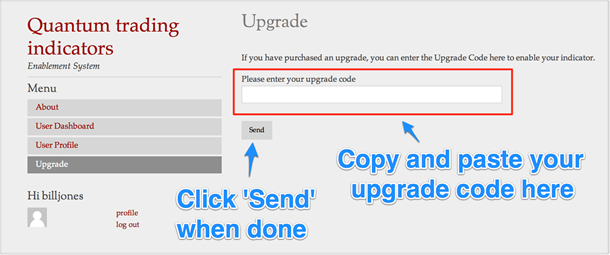 If you have purchased more than one indicator, simply repeat this for each separate code, and click Send for each one.
And that's it – your indicators are now enabled and active.
To check that everything is working correctly, head back to the top level navigation in your MT4 account and look for the 'View' option. Left click on View and from the drop down menu select 'Navigator'. Scroll down to the 'Custom Indicators' selection, and left click on the small + symbol alongside. This will open the following window with all the custom indicators displayed. Scroll down to the bottom of this window and you will find all your Quantum Trading Indicators here, starting with the prefix: 'Quantum'.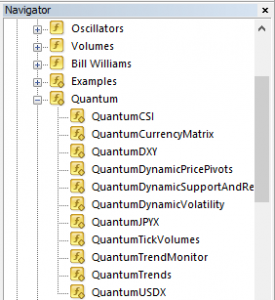 To add one of the Quantum Indicators to a chart, you will need to drag and drop the indicator onto the chart. To do this, simply hold down the left click on your mouse, and drag one of the indicators onto your chart holding down the left mouse click. Then release the left mouse click and the indicator will be dropped onto the chart.
Your indicators will now be activated.
You can manage all your indicators from inside your Quantum Trading account, which also shows you which indicators are enabled in your User Dashboard. The word (Unlimited) shows you that you have purchased a lifetime license from us.
If you wish to transfer your indicators to another MT4 broker, this can all be done using your Quantum Trading Account. All you need to do is to log in to your Quantum Trading account, delete the Account Code, and then repeat Step 2 and Step 3 ( ignore Step 1 as you already have an account).
You can update your User Profile in the left hand navigation, to change your password, email and personal details.
If you do need any further help please just email us at helpdesk@quantumtrading.com and one of our support team will be delighted to assist further.
Finally just to round off with a couple of other points.
Your indicators are now fully enabled and will continue to work for the life of the license on any MT4 broker platform. However, whenever you log out of your MT4 platform, or shut down your computer, when you log back in to your MT4 account, you will need to switch timeframes to reload the indicators. For example when you log back into your account, simply change a chart from 5m to 15m and then back again and your indicators will be reloaded and active once more. You may also need to do this the first time they are loaded, following the upgrade.
Thank you once again for your purchase, and we wish you every success with your trading.